Characteristics of Bacteriophage Altwerkus
Streamlining Analysis for Automated Neuronal Membrane Segmentation Pipelines (neuroXplorer)
Prediction of Autism by Translation and Immune Coexpressed Genes
Analysis of Metagenomic Sequences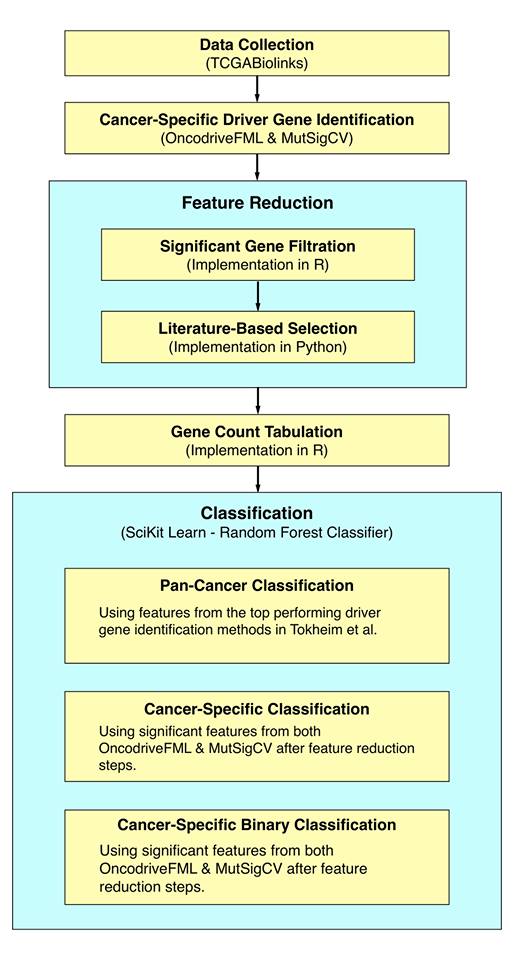 Classification of Cancer Type Based on Cancer-Specific vs. Pan-Cancer Driver Genes Using Machine Learning
Field: Computational Oncogenomics
Link: https://icm.jhu.edu
Sponsor: Institute of Computational Medicine
About:
Under the mentorship of Dr. Rachel Karchin, this project aims to identify common somatic mutations and driver genes for specific cancer-types to enhance targeted therapeutics development.
We use machine learning techniques (random forest models) to predict cancer-type based on cancer-specific features (somatic mutations and driver genes). After comparing our cancer-specific statistical analysis to pan-cancer-based prediction classifiers, we show that our analysis performs better or the same with a reduced amount of features.
Our project utilized The Cancer Genome Atlas (TCGA) cancer genome data and two driver gene evaluation methods (OncodriveFML and MutSigCV).
Microbiology
Connectomics
Computational Genomics
Metagenomics
Computational Oncogenomics